Merry Xmas from Hell
Posted by Colin Brayton on December 24, 2006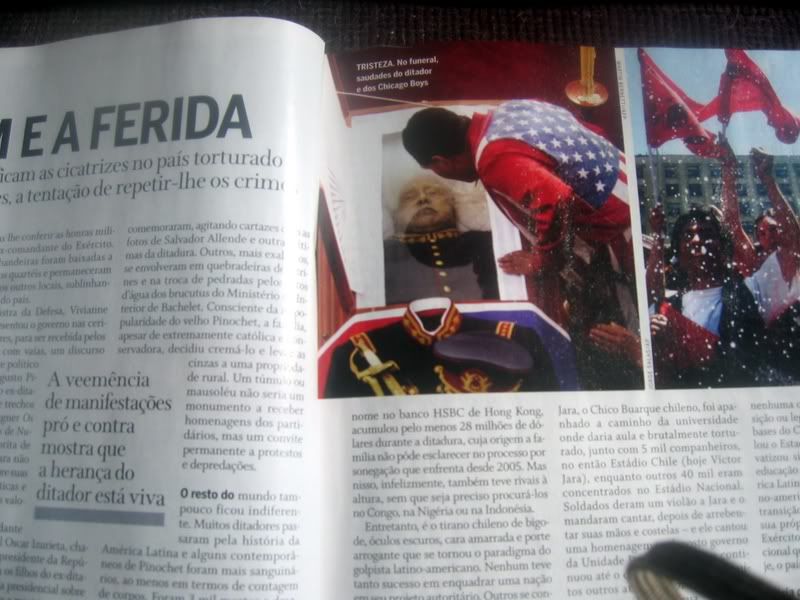 Conducting investor relations from beyond the grave: It would seem absurd if Dickens had not already imagined it. For another striking instance of the "sadly necessary" pseudo-justification, see State Masturbates. 
Justifica Pinochet dictadura en carta póstuma: Billionaire Chilean generalissimo Augusto Pinochet justifies himself with a letter from beyond the grave in which he conveniently fails to mention the "billionaire" part, at least according to the gist published by the Mexico City daily.
Augusto writes that if he had it to do all over again, he would be a kinder, gentler extrajudicial death-squad running motherfucker and mafia chieftain.
El ex dictador chileno Augusto Pinochet justificó en una carta póstuma el cruento golpe militar que lo llevó al poder en 1973, pero lamentó los dolores que provocó, por lo cual, si se repitiesen las circunstancias de entonces, volvería a hacerlo, pero "con mayor sabiduría".
I was talking last week with the foreign correspondent from a major, I would say somewhat middle of the road and predominantly "reality-based," Argentine metro daily who lives here in São Paulo.
Interesting factoid: This very fine professional tells me that the dead-tree newspaper is alive and well and living it up in Argentina.
She & I tended to agree, I think, that this kind of thing is an ugly and perturbing sign, given parallel developments in Peru and Mexico, and Thailand, for that matter.
We seem to differ, however, as to whether all of this is just the last gasp of a dying dinosaur being run by a rather Keystone Kops-like U.S. Government 2.0 — that is my general impression — or still a doable foreign policy option for that semi-autonomous gang of bureaucratic vandals in the U.S. Dept. of State and DoD going forward.
But I think my colleague has a point: An idiot with a gun is exponentially more dangerous than an intelligent person with a gun.
Even if that intelligent person with a gun is not someone you trust, like, or agree with, or even if they have orders to use (non-excessive, one hopes) force to suppress your political rights, you can at least count on them to behave rationally.
At least that way you can still plan your daily commute.
So splitting the difference, I would say that my Portunhol conversation with this veteran Brasília correspondent does permit one conclusion:
Sane people all over the world perceive our government, or self-styled "key influential" elements therein, as incapable of learning from history, and therefore plausibly capable of all manner of sinister and futile imbecility in the future.
And who can freaking blame them?
I tend to think that Bush II, at least, has pretty much euthanized the idea, in the minds of the thinking beings of all ideological camps and stripes, that applying Cold War doctrine to the world of today can accomplish anything of value to anyone — except Halliburton and possibly Intel– anymore.
But will Hillary or Obama do any different?
I think that is a dangerous assumption to take on faith, even if Hillary has behaved reasonably impeccably so far, IMHO, as my U.S. Senator from New York.
Better than Chuck Schumer at times, even, if the public record can be trusted. There were a couple of cases there in which I thought Chuck came out looking a little bit like a crooked Italian soccer ref in cases involving financial services community players.
Which is why it is best we do not forget that New York has long been, and at times still is, a machine-politics state, either.
Has been a machine-politics state? Hell, New Yorkers are the inventors and past grandmasters of that game, the same way we invented three-card monte.
What? Italian immigrants invented that, you say?
Ah, the Italian diaspora: With due respect to we Celtic soul cats, so many of the very best things in life, and not a few of some of the worst, can be laid to your account.
So much will depend now on Spitzer and Bloomberg and Corzine — global finance, governance and policy supernerds all — and suchlike people being as committed to the old school of Sound Public Policy 1.0 as they say they are — an able to deliver on that commitment.
That goes for Good Neighbor 1.0 foreign policy, too, if NYC mayor Mike Bloomberg's statements on Mexican immigration are any indication.
As I hope they are.
I am watching you guys.
And so far, the BS-detector is not pinging into the amber warning levels at which respiratory impairment occurs.
If and when it does, of course, Gary Weiss will make a goode canary in the coal mine.
So please: carry on, but, as Bob Dylan says, "know you're not alone."
Rating the Generalissimos
Me and Neuza came to a startling conclusion together the other day: that Gens. Geisel and Golbery here in Brazil may have actually been relatively decent guys compared to Augusto Pinochet — who, if I recall properly, did not attend Geisel's inauguration. Though Pat Nixon did.
Not much of a standard that, but at least they arguably cleared some minimal bar of salvageable humanity.
Yes, they did or countenanced a lot of deeply egregious stuff, by the "The Buck Stops Here" standard.
Has any politician ever achieved a Level 5 certification on that standard, by the way?
Still, it is very interesting to read in the work of the Brazilian historian Elio Gaspari about the degree to which The Kraut and the Witchdoctor were simply unable to whistle back the dogs of war once they had slipped the leash.
(The "elite" BOPE unit of the military police in Rio de Janeiro, for example, still refers to itself as "the dogs of war.")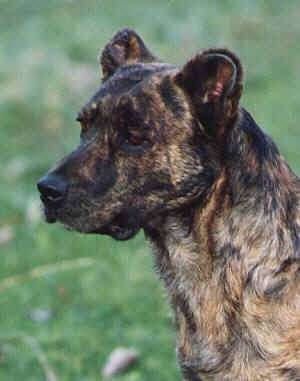 The Brazilian cão de fila do São Miguel: Poodles for toothpaste, pit bulls for dental floss.
Or at least the degree to which they wanted the historical record to reflect that idea.
Like the old Soviet appartchiks, these guys' idea of a good time was a down-home BBQ on the weekends at the local equivalent of the dacha.
BBQs with local pinga and zebu and nothing else really extravagant, one reads, unlike some of the more Satyriconian Kremlin dudes.
All of which makes for a fascinating subject for open historical debate.
More information, one hopes, will be forthcoming.
Brazilian historians, get busy writing those books. We will buy and devour them. (But please, see if you cannot bring them out on the Companhia das Letras or some other imprint dedicated to making books affordable. We are trying to live "on the economy" here.)
The devil is in the details, of course — See our Socialists 6, Juntas 3 for a meditation on the soccer-politics of this question.
But I have to say that I find that quite plausible, as Gaspari tells the story.
When I consider what is now known or strongly suspected about some of the more Grand Guignol-style machinations of that consummate oxymoron, the Brazilian military intelligence establishment, during the years leading up to the Constitution of 1988, I think I hear echoes of the kind of thing going on in our own Government 2.0 these days.
I will have to read more in the interviews those Brazilian generals — not even generalissimos, mind you, because they insisted on not cutting in line in the hierarchy — gave before they died.
As I understand it, they were actually quite forthcoming and self-critical as interview subjects — especially considering that they were once tinpot dictators and all.
The crucial thing was this:
as far as we know, those guys retired in modest comfort on their civil service pensions.
(Supplemented by their benefits from those corporate executive jobs they held, in some cases.)
As did about a gazillion other generals who benefitted from that sudden flood of promotions when the colonels took control, true.
So maybe something of a sacanagem, but at least not a puta sacanagem.
Golbery, who was not an incompetent infowarrior at all, technically speaking, even made a point of walking to work and taking common taxis around Rio de Janeiro, one reads.
Which is no excuse for many things, but then again, it is not chopped liver, as we say in Brooklyn.
As we at NMM always say, the most devastatingly effective propaganda — in the neutral sense of the term — of all is propaganda that is mainly or even entirely true.
Not the whole truth, of course. What is Truth? But at least not reeking to high heaven of bullshit in the facts it chooses to emphasize.
Anyway, I will translate for those of you who are beginning to think, as I hope you, that you might not be able to trust Washington Post 2.0 Dot Com not to misinform you in the most disingenuous fashion possible about the world outside the Green Zone.
The Pinochet Foundation: Death and Taxes 2.0
What is the first thing that Pinochet did after dying, by the way?
He started up an NGO.
Which in a lot of ways is exactly what he did in life, I think.
What I mean is that the para-governmental organized crime syndicate that Pinochet fronted, and now leads from beyond the grave, in much the same way that Sonny Bono perists in a ghostly state as the author of "I Got You Babe — the para-governmental organized crime syndicate that made him a billionaire generalissimo — was also essentially non-governmental in the functional sense, though quasi-governmental in form.
What I like to call a quagga, as a matter of fact.
Possibly the classic case thereof. Calderón in Mexico appears to be mounting a challenge, but as I said, I give the guy less than a year before the thing breaks out into a generalized state of exception and Solidarnosc-style flag-waving pandemonium.
Henry Kissinger, Judge Garzón still has a subpoena for you, too, I understand.
Maybe you, too, would do well to found your tax-deductible reputational risk-management nonprofit organization and just bugger off to Circle 9 right now.

If a war crimes trial at the Hague sticks in the throat of nativists like Buchanan, I think we could at least jail this good German-born naturalized citizen as the vandal-in-chief of our own homegrown rights-based system of constitutional democracy.
El ex dictador chileno Augusto Pinochet justificó en una carta póstuma el cruento golpe militar que lo llevó al poder en 1973, pero lamentó los dolores que provocó, por lo cual, si se repitiesen las circunstancias de entonces, volvería a hacerlo, pero "con mayor sabiduría".
Former Chilean dictator Augusto Pinochet, in a posthumous letter, justified the bloody [savor that lovely, rather Gongoristic word, cruento --Ed./Trad.] military coup that brought him to power in 1973, but lamented the pain it caused, on account of which, if he were to find himself in similar circumstances now as then, he would do it all over again, "but with greater wisdom."
I think I can show you fairly convincing evidence that Calderón de la Farça had an advance peek at this work of Latin American fiction before starting to work on one of his own.
Tales afirmaciones están contenidas en un "Mensaje a mis compatriotas", un documento póstumo que el ex gobernante de facto (1973-1990) dejó a los directivos de la fundación que lleva su nombre y que publica hoy la prensa local.
These and similar statements are contained in a "Message to My Compatriots," and posthumous document that the former de facto leader (1973-1990) left to the directors of the foundation that bears his name, which published it today in the local (Chilean) press.
Los directivos de la fundación decidieron que fuese publicado hoy, domingo, por constituir, a su juicio, "un mensaje de unidad hacia los chilenos" y por su valor histórico.
The directors of the Pinochet Foundation [say they] decided to publish it to day, Sunday (Dec. 24, 2006) because they viewed it as "a message of unity addressed to the Chilean people," and for its historical value.
Xmas eve.
Bwah hah hah, as Ivan Lerner would no doubt laugh in that evil, mocking way of his.
El mensaje está dirigido a los chilenos "sin excepción" y Pinochet expresa su deseo de que sea difundido tras su muerte, ocurrida el pasado 10 de diciembre.
The message was addressed to "All Chileans, without exception" [Who says fascist mafiosos lack a black sense of humor? --Ed.]. In it, Pinochet expresses his desire that it be published after his death. The billionaire generalissimo died this past Dec. 10.
I just sinned against the ethics of the translation profession. Can you spot the offense and say why it is a sin?
"Quiero despedirme de ustedes con mucho cariño. Entiendo que esto parecerá incomprensible para muchísimos, pero es así. En mi corazón no he dejado lugar para el odio", afirma en el texto.
"I wish to bid you all an affectionate farewell. I understand that this will seem incomprehensible to many, many people, but I mean it. In my heart I have no room left for hatred," he says in the letter.
"Amo a la Patria; amo a todos ustedes. Por amor se pueden hacer muchas cosas buenas y muchas malas. Acertadas y erróneas. Yo nunca imaginé entrar a la gran historia de mi país, pero así ocurrió", sostiene.
"I love the Fatherland. I love all of you. Many good things and also many evil things can be done out of love. Wrong things and right things. I never thought that one day I would enter into the history books of my nation, but that is what happened," he says.
This is very Thomist-Kantian-Aristotelian — note the telltale "square of oppositions" from the Categories.
On the moral axis, there are good things and there are evil things. On the practical axis, there are correct things and there are erroneous things.
Which neatly produces the Veja magazine and Global Voices Online take on the man's career: Some morally evil deeds are practically necessary [for the greater good, one supposes] and done because they are efficacious.
You cannot kid me on this point. I own a 10-volume set of the Summa Theologicae. In Latin. And I have read a fair amount of it.
Pese a señalar que no quiere hacer análisis mayores, lo que deja a los historiadores, afirma que en los años 70 el mundo estaba inmerso en la guerra fría y que Chile "empezó a arder y se encajonaba, sin escape" y que "se avecinaba a una guerra civil con miles de muertos".
Although he indicates that he prefers not to analyze the situation further, which he says he will leave to historians, he says that in the 1970s the world was immersed in the Cold War and that Chile "began to burn, and was caught in a dead-end street," and that "it was on the brink of a civil war, with thousands of dead."
Which actually took place, as I recall: The Guerra Súcia.
Tras considerar que una guerra es "lo peor que le puede ocurrir a una sociedad", Pinochet afirma que la "mayoría de la población se inclinaba por eliminar la imposición de una dictadura marxista", en alusión al gobierno de Salvador Allende.
After pondering that a war is "the worst thing that can happen to a society," Pinochet says that "the majority of the Chilean population inclined toward forestalling the imposition of a Marxist dictatorship," alluding to the government of [democratically elected] Salvador Allende.
Does Generalissimo Pinochet have exit polling numbers that contradict the official results?
Agrega que hubo que actuar "con máximo rigor" hasta conjurar cualquier extensión del conflicto que se anunciaba, pues de lo contrario, la acción militar hubiese terminado en un fiasco, que habría "provocado en el pueblo por muchos años consecuencias negativas en extremo dolorosas".
He adds that he had to act "with maximum severity" in order to prevent the impending conflict from widening, for had he not, military action would have ended in a fiasco, which would have "imposed years and years of negative and extremely painful consequences on the people."
Sobre esa base, argumenta que fue preciso "emplear diversos procedimientos de control militar, como reclusión transitoria, exilios autorizados, fusilamientos con juicio militar".
On that basis, he argues that it was necessary to "employ various procedures of military control, such as temporary imprisonment, official exile, and firing squads under the code of military justice."
And so on and so forth.
Torture, assassinations of "sanctioned exiles" in foreign countries, yada yada yada yada.
Why not provide the whole list rather than a few random examples, which tend to suggest that the dirty deeds were done by the book, at least?
"En muchas muertes habidas y en los desaparecimientos de cuerpos es muy posible que no se logre jamás un conocimiento acabado del cómo o por qué ocurrieron", asevera.
"In the case of many deaths and disappearances it is quite possible that a full accounting will ever be possible of how or why they occurred," he states.
"No se puede descargar con simpleza la responsabilidad de un sinnúmero de extralimitaciones porque no hubo un plan institucional para ello. Los conflictos graves son así y siempre serán así: fuente de abusos y exageraciones", justifica.
A simplistic assignment of responsibility for the innumerable acts of boundary-overstepping that took place [extralimitaciones is another lovely and Gongoristic word], because these were not the product of an institutional plan. Grave conflicts are, and always will be," he says, "a source of abuses and excesses."
Classic case of the "Fog of War" topos there.
I do believe I have heard the exact same reasoning coming out of the mouths of Bush II officials quite a lot since Mission Accomplished Day. What Harvard-educated lawyer actually wrote this shit, anyway? I would really like to know.
Sostiene en seguida que actuó "con rigor pero con mucha más flexibilidad que la que se me reconoce, por lo que yo siempre me refería a una dictablanda".
He goes on to say that he acted "with severity but also with much more flexibility than I am given credit for, which is why I always liked to refer to myself as a 'soft dictator.'"
"¡Cómo quisiera que no hubiese sido necesaria la acción del 11 de septiembre de 1973! ¡Cómo hubiera querido que la ideología marxista-leninista no se hubiera interpuesto en la nuestra vida patria!", afirma Pinochet, bajo cuyo régimen hubo más de 3.000 muertos, un millar de desaparecidos, cerca de treinta mil torturados y más de 200.000 exiliados.
"How I wish that it would not have been necessary to act as I did on Sept. 11, 1973! How I wish that Marxist-Leninist ideology had not interfered in our national life! [I feel the same way about Kissinger, Podhoretz and Wolfowitz, myself --Ed.]" Pinochet says, under whose regime more than 3,000 people died, more than 1,000 disappeared, 30,000 were tortured and more than 200,000 exiled.
This is an "emotional outburst" straight out of Cicero, note, as to the form of words and the arrangement of the periods. And not a very well-executed one, either.
"Cómo hubiese deseado que el presidente Allende no hubiere incubado en su ideario el propósito de transformar a nuestra Patria en una pieza más del tablero dictatorial marxista!", argumenta Pinochet.
"How I would have wished that President Allende had not harbored in his mind the purpose of transforming our Fatherland into yet another pawn on the chessboard of Marxist dictatorship!"
Jesus, you know, for all his faults, Hitler could at least orate with a little pizzazz.
As the crazy Nazi in Mel Brooks' The Producers says, "Hitler, now there was a painter! He could paint an entire apartment in one afternoon! Two coats!"
"Yo voy a misa y comulgo. Nunca dejo de pensar en las heridas abiertas", dice más adelante y asegura que le gustaría "andar en las calles, saludando, consolando, ayudando".
I go to Mass and I take Holy Communion. I never stop thinking about the open wounds," he says further down, assuring readers that he would like "to walk through the streets, greeting you, consoling you, helping you."
So why, one wonders, could he not? Oh, right. The criminal indictments and such.
Mi destino es un tipo de destierro y soledad que jamás hubiera pensado, y menos deseado", agrega, pero en seguida se declara "orgulloso de la enorme acción que hubo que realizar para impedir que el marxismo-leninismo alcanzara el poder total".
My destiny is a kind of exile and solitude [GGM: consider a plagiarism lawsuit?] that I never would have imagined, much less desired," he adds, but then says that he is "proud of the enormity of the action that had to be taken to prevent Marxist-Leninism from achieving total power."
Su acción, acota, también estuvo encaminada "a que mi entrañable Patria fuera una gran nación".
This action, he says, was undertaken, "so that my beloved Fatherland could be a great nation."
What, that long strip of beach hemmed in by those groovy but impassible mountains?
Not strategically suited for greatness in that sense really, is it?
Lacks the Lebensraum, as they say, right?
I bet most Chileans would have settled for a solid, prosperous, boringly bourgeois minor nation with excellent views, great wine, and a world-class cultural production complex.
Kind of a New Zealand with llamas, Mayans rather than Maoris, and Cervantes before Shakespeare.
Which is kind of what they seem to be working on now, with a little help from Swiss-style banking governance.
"De eso, nunca dudaré, sin una pizca de vacilación. De repetirse la experiencia hubiere deseado, sin embargo, mayor sabiduría", concluye.
It is a conviction I shall never doubt, from which I shall never waver. If I had to do it all over again, I would hope, however, for greater wisdom," he concludes.
Really.
I mean, why steal billions, which is the kind of folding money people eventually wonder whatever happened to?
A few millions, a nice Swiss chalet, the accountants can move that around comfortably. ….
Según la fundación Pinochet, el texto original, escrito a máquina, será exhibido en un futuro museo que se proyecta levantar.
The Pinochet Foundation says the original typewritten manuscript will be exibited in a museum it is planning to build.
Build with what funds? That is what I wanna know.
At any rate: It is just this sort of disingenuous, hamfisted scenery-chewing that has given the noble art of Rhetorick a bad name.