Mexico: Reputed Meth Mandarin Was a High Roller, Says DEA
Posted by Colin Brayton on July 12, 2007
La DEA investiga si el empresario lavó dinero en Estados Unidos(La Jornada): The DEA is investigating Sino-Mexican businessman Zhenli Ye Gon — Ye Gods, Ye Gon: Mexican Congress Keeps [Throast-Slashing Gesture] Scandal Alive — for possible money laundering through the U.S. financial system. According to a document leaked from Mexico's PGR and signed by a putative DEA agent from the embassy with a funny name.
The guy from Shangai reportedly lost $125 million in Las Vegas casinos over the years.
$125 million.
This could turn out to be a whale of a money-laundering tale, whatever else it is. The Mexican press mainly wants to know why the hell the gringos have all that money seized by Mexican police and prosecutors.
Could it be that the DEA has better ways and means to trace some of the funky cash? The Brazilian "mountain of money" scandal from last year's elections was interesting, politics aside, precisely because of the massive data-mining effort that went into trying to resolve a similar question: Where did all that cash come from? The federal police were able to determine with a fair degree of certainty that it was all of legal origin.
Still, as you know, the political atmosphere in Mexico is poisoned at the moment by suspicion that the Calderón government is secretly negotiating away Mexican sovereignty and plotting a repetition of Plan Colombia south of the Rio Grande. See
La agencia antidrogas de Estados Unidos (DEA, por sus siglas en inglés) rastrea las rutas del dinero de Zhenli Ye Gon para determinar si el empresario incurrió en lavado de dinero mediante el sistema financiero de aquel país.
The U.S. antinarcotics agency (DEA) is tracing the money of Zhenli Ye Gon to determine whether the businessman laundered money through the U.S. financial system.
Según consta en documentos de la Procuraduría General de la República (PGR), en poder de La Jornada, el director regional de la DEA, con sede en la embajada de Estados Unidos en México, David Gaddyss, notificó a la Subprocuraduría de Investigación Especializada en Delincuencia Organizada (SIEDO) que trabaja en coordinación con las autoridades de su país para realizar investigaciones sobre los movimientos bancarios y las cuentas a nombre de Zhenli Ye Gon, quien llegó a perder en varios años más de 125 millones de dólares en casinos de Las Vegas.
According to documents from the Mexican federal attorney in the possession of this newspaper, the regional director of the DEA, stationed at the U.S. embassy in Mexico, David Gaddyss, notified the organized crime bureau of the Mexican federal attorney's office, SIEDO, that it is working with U.S. authorities to probe banking transactions and account in the name of Zhenli Ye Gon, who over several years has lost more than $125 million in Las Vegas casinos.
Do you think they comp this guy the William Bennett memorial penthouse or what?
Funcionarios del Poder Judicial Federal consultados consideraron que en caso de que el gobierno estadunidense compruebe que existen indicios para juzgar a Ye Gon en tribunales de ese país por presunto lavado de dinero, habría posibilidades de congelar buena parte de los 204 millones de dólares propiedad del empresario que fueron depositados en Bank of America por el gobierno mexicano.
Officials of the federal judiciary we spoke to say they believe that if the U.S. government finds grounds to indict Ye Gon in a U.S. court over alleged money-laundering, there is a possibility that a good part of the $204 million dollars deposited in the Bank of America by the Mexican government could be frozen.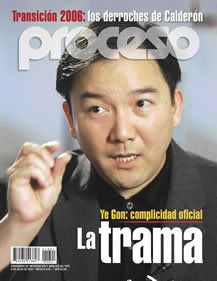 "Ye Gon: Official Complicity"
Por el momento, el gobierno de Estados Unidos tiene decomisadas dos cuentas bancarias a nombre de Ye Gon por cerca de 50 mil dólares.
For the moment, the U.S. government has apprehended two bank accounts in Ye Gon's name containing some $50 million.
Como parte de las investigaciones que desde abril pasado realiza la DEA se han revisado algunas propiedades de Ye Gon, de sus familiares y allegados ubicadas en distintos puntos de Estados Unidos, aunque hasta el momento no se conoce algún reporte sobre el resultado de esos cateos.
As part of investigations underway since April, the DEA has searched some properties belonging to Ye Gon, his family members and associates located in various parts of the United States, although to this point no reports on the results of these searches have come to light.
Las pesquisas estadunidenses sobre las rutas del dinero de Ye Gon comenzaron después de que las autoridades mexicanas descubrieron, el 17 de marzo pasado, en una residencia de las Lomas de Chapultepec, más de 205 millones de dólares que el empresario mantenía ocultos.
U.S. inquiries into the routes traveled by Ye Gon's money began after Mexican authorities discovered more than $205 million in cash the businessman had hidden in his house in Las Lomas de Chapultepec, on March 17, 2007.
De acuerdo con el oficio PGR/07-0189, de fecha 19 de abril de 2007, David Gaddyss respondió a una petición que le hizo la SIEDO sobre antecedentes legales de Ye Gon en Estados Unidos. Dicho documento refiere: "aprovecho para proporcionarle información que hemos descubierto en relación con las actividades de Zhenli Ye Gon en nuestro país.
According to Report No. PG/07-0189, dated 19 April 2007, Gaddyss responded to a request from SIEDO for information on Ye Gon's criminal history in the United States. The document states "I take this opportunity to provide you with information we have discovered about the activities of Ye Gon in our country."
"Nuestra oficina de la DEA en Las Vegas, Nevada, ha identificado el historial de las apuestas en varios casinos de las Las Vegas desde aproximadamente 1997 hasta 2007. En muchos casos el dinero fue enviado a cuentas bancarias a Estados Unidos a través de transferencias de cable que se originaron de casas de cambio en México.
"Our DEA office in Las Vegas, Nevada, has identified his betting history in various casinos between 1997 and 2007, roughly. In many case the money was sent to U.S. bank accounts by cable transfers that originated from Mexican currency exchange bureaus.
"Una vez que el dinero estuvo en una cuenta bancaria de Estados Unidos iniciamos el análisis de registros en todo ese periodo de tiempo (sic) que nos llevó a identificar que a la fecha Ye Gon ha perdido aproximadamente más de 125 millones 917 mil 839 dólares en apuestas.
"Since the money was in a U.S. bank account, we started analyzing all the transaction during that period of time, which led us to discover that to to date Ye Gon has lost approximately $125,917,839 in bets.
The last $9 of it going into those loose quarter slots at the Greyhound terminal, I imagine — which along with one bet on a horserace is the entire extent of my lifetime experience with gambling, by the way.
"Nuestras oficinas en Estados Unidos continúan coordinando directrices de investigación con mi oficina con el objeto de establecer causas probables de infracciones a las leyes contra el lavado de dinero", puntualizó el funcionario estadunidense, quien pidió a la SIEDO tratar esta información "con extrema confidencialidad".
"Our offices in the U.S. continue to coordinate the investigation with my office with the objective of establishing probable cause on money laundering infractions," said the U.S. official, who asked SIEDO to treat this information as "extremely confidential."
En otro oficio número PGR/070-181 suscrito por el mismo David Gaddyss, la DEA refiere que se ha decomisado por el momento dos cuentas bancarias a nombre de Zhenli Ye Gon, mientras que otras dos están a la espera de ser intervenidas.
In another Report, No. PGR/070-81, signed by Gaddyss, the DEA relates that two bank accounts of Ye Gon's have been seized to date, while another two are expected to be acted against.