Brazilian Attorneys Condemn O Globo "Scoop"
Posted by Colin Brayton on August 23, 2007

Source: O Globo. Click to zoom. Don't they have technology now that blocks screen-viewing from all but the user's perspective? I think they do, and I think it is pretty cheap, too. Note to IT: Requisition us some? Se puderem?
Ironically, we as journalists dug our own hole on this issue. The restrictions go back to a landmark trial in 1965, the case of Billie Sol Estes v. Texas. Journalists and photographers covering that trial acted so outrageously that the Supreme Court slammed the door on cameras in the courts. … If the Supreme Court is to open its doors to cameras, it has to be convinced that journalists will behave themselves and act professionally, recognizing the serious business of justice takes precedence over "good TV." –Al Tompkins, "A Case for Cameras in the Courtroom" (Poynter Institute)
OAB: Brasil não pode virar um Big Brother e banir a privacidade: "Brazil cannot become a Big Brother and abolish privacy." The Order of Brazilian Attorneys, which has been critical of wiretapping both legal and illegal, seems to find that in order to maintain that libertarian position consistently, it has to come out strongly against O Globo's interception of private electronic communications between Supreme Court justices as well.
Which seems like a coherent enough position to take. I clip to file in order to have a decent sampling of the points of view on the case, pra inglês ver.
It is an interesting debate to read alongside our own domestic debate over warrantless communication intercepts and data mining and the like.
"O Brasil não pode virar um imenso Big Brother, em que a privacidade seja banida. Sem privacidade, não há liberdade. Ela é uma de suas manifestações mais elementares.
"Brazil cannot become an immense Big Brother in which privacy is abolished. Without privacy there is no liberty. Privacy is one of liberty's most fundamental manifestations."

A rede Intranet é recurso mundialmente adotado para facilitar a comunicação interna – nas empresas e nas instituições. Como o telefone, é ferramenta de uso privado.
Intranet networks are used the world over to facilitate internal communications — in private firms and in public institutions. Like the telephone, this tool is for private use.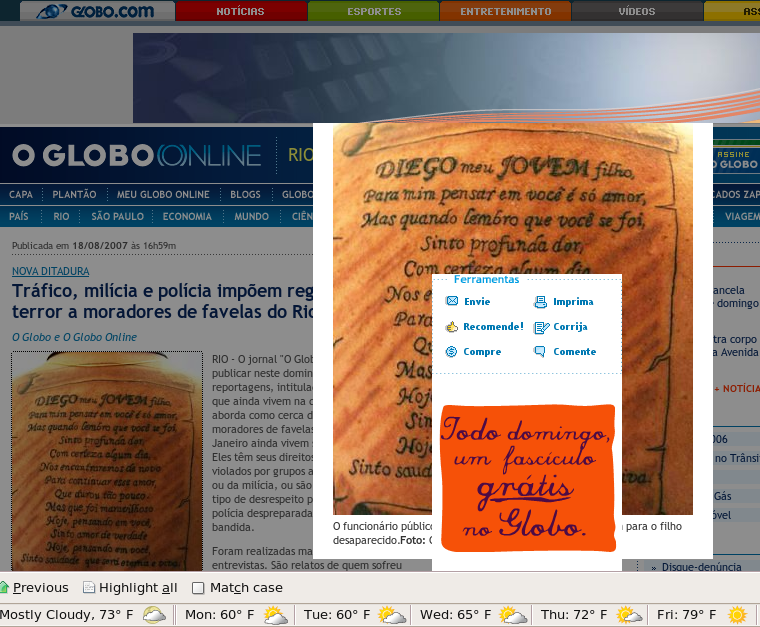 Letter to Diego. Intrusive O Globo photo popup interface is apparently designed to prevent you from actually viewing the image. This can be worked around. The house ad that appears there — "Every Sunday, an extra section for free in O Globo — is cross-branded with the tattoo: it uses a font similar to the lettering style on the man's back. Globo: Your existential pain is part of our branding strategy.
O Supremo Tribunal Federal a adota para que os ministros possam, em âmbito estrito e pessoal, trocar impressões reservadas a respeito do processo em julgamento. Não há ilegalidade nisso.
The Supreme Court adopted an intranet so that the justices could, in strict privacy, exchange personal impressions with respect to legal proceedings. There is nothing illegal about this.
If there were, why would the Supreme Court spend public money installing an intranet in the first place? You might surmise.
Ilegal – e chocante – é o fato de tais conversas serem violadas por meio de fotografias à tela dos computadores, algo tão inaceitável quanto colocar grampo entre os magistrados e advogados para capturar o teor de suas conversas.
What is illegal — and shocking — is the fact that such conversations would be violated by photographing computer screens, which is just an unacceptable as wiretapping the conversations of judges and attorneys to learn the contents of their conversations.
Não bastasse a truculência policial de colocar grampos ambientais em escritórios de advocacia, violando a lei do sigilo profissional, concebida para proteger o cliente, viola-se agora a intimidade do próprio juiz e do julgamento.

As if it were not bad enough that the police are truculent enough to place environmental bugs in attorney's offices, violating the law of professional confidentiality, which was implemented to protect the rights of clients, now the privacy of a judge presiding over a legal proceeding is violated.
Não será surpresa se, em breve, começarem a colocar grampos nos confessionários católicos para violar o segredo religioso da confissão. É preciso prudência para que tais anomalias não se transformem em prática corriqueira e adquiram contornos de legitimidade.

CC (Brazil) from mid-june: "Disneyland of Wiretapping. Outlaw it, no. Stop leaks, yes." The siege of the President's brother united government and opposition in criticism of federal police methods, but this should not be used to impede investigations. A Ministry of Justice proposal would widen the use of surveillance." See also Behind the Music: The Estadão on the Leaky Police and Brazil: Globo and the Leaky Police. Again.
It will surprise no one if soon they start to bug Catholic confessionals to violate the secrets thereof. Prudence is required lest such anomalies do not become common practice and acquire an air of legitimacy.
Não podemos cair num Estado de bisbilhotagem, cujo desdobramento inevitável é o Estado Policial, ambos incompatíveis não apenas com o Estado democrático de Direito, mas com os próprios fundamentos da civilização."
We cannot fall into a surveillance State whose inevitable outcome is a police state — both of them incompatible not only with the democratic rule of law but with the very foundations of civilization.
Bottom line: I do believe the OAB just called O Globo a bunch of criminals. Here in the States, of course, leak journalism has its First Amendment defenders. Why, the Society of Professional Journalists even named Judy Miller a Soviet Heroine of the First Amendment (which is why I no longer pay dues to them). But it is not, of course, an issue where you can draw firm lines with ease.
In the Brazilian case, however, it will be interesting to ask, Is a showdown over "press freedom" coming on the issue?
Will RSF step up to bat and decry Brazilians' "authoritarian turn" as it did for RCTV (– stating gabbling untruths in the process)?


FEAR AT THE SUPREME COURT. "It is intolerable, this atmosphere we live in, with the abusive conduct of federal agents or agencies deeply enmeshed with the machinery of the State. Generalized wiretapping is an indicator of, and an exercise in, authoritarian politics," says Justice Celso de Mello. "Supreme Court justices react to the suspicion of wiretaps in the highest court in the land." That is, they react to their own expression of suspicion on that point. Another justice pictured here, Mendes, was roundly criticized for not recusing himself from a vote that would have resulted in the quashing of charges of administrative improbity against himself personallly.